These are 6 apps to keep your Android device Smooth & Healthy.
Mobile Phone is essential gadget in our life. There are tons of information saved on our Mobile Phone, and to keep your device running smooth we must take help of some of the important application tools available on play store.
Gallery Doctor
We take so many photos and sometimes there is a need to clear unwanted photos from your device. This is very handy tool to delete unwanted photos from your device. Gallery Doctor scans your device and arranges them in 3 categories i.e. Bad Photos, Similar Photos and Photos for review. It NEVER deletes your pics automatically. It asks you to select which photo you want to delete. Download and clean your gallery.
Download from Play Store
Clean Master ( Speed Booster )
This the Most Popular app on play store to manage your apps and delete junk files. It has a very simple user interface to manage your device. It offers features like Clean Junk, Phone Boost, App Manager, CPU Cooler, Duplicate Photos etc.
Download from Play Store
CM Security Antivirus Applock
It is a Most Popular Antivirus app for your mobile. It scans your device for virus, privacy information like clipboard, junk files & browsing history and deletes them safely. It also has built-in AppLock to protect your apps like Whatsapp, Messaging and other apps where you can set Pattern to unlock apps.
Download from Play Store
Greenify
Geenify helps you to identify and put misbehaving apps to hibernation when you are not using them, to stop them from lagging your device and leeching battery. Make sure you do Not hibernate apps like alarm, calendar etc to avoid missing important events.
Download from Play Store
Super Backup : SMS & Contacts
Backup is very important and this app lets you backup your SMS, Contacts, Apps (apk), Call logs, Calendars and Bookmarks. It also offers schedule backups and you can save your backups to your email and cloud storage.
Download from Play Store
Dropbox
Backup for your photos and videos is also important. Dropbox lets you upload your pictures to cloud storage. You can select when to upload and what to upload from settings. You need to create account to enable auto backup. 2GB space is what you get free for your data. Some of the Samsung phone comes with 50GB free space for 2 years with Dropbox.
Download from Play Store
If I missed some of the apps which you use, please mention in comments below and share this post with your friends.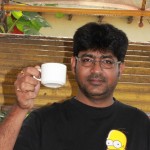 Share this: