Very Important part of any Android Smart Phone is "Launcher". Many users who are migrated from IOS, Windows Phone, BADA etc. to Android do not have knowledge about using different Launchers. All major OEMs provide their own skin (Launcher) over stock android, like Samsung's TouchWiz, HTC's Sense, Xiaomi's MIUI etc.
What if you do NOT like default UI interface provided by OEM?
Here comes "Launcher". There are many launchers available on Play Store, but I will talk about Nova Launcher here. I am using Nova Launcher on my Galaxy S3 & Oneplus One since 2 years and it is very useful & offers many customization options.
Nova Launcher is available as Free as well as paid with extra features.
The UI of Nova Launcher is near Stock Android, of course, you can download plenty of ICON Packs from Play Store to customize it.
User Interface
It has a simple and user-friendly interface. Main features are as below.
* Add up to 9 Home Screens.
* Add up to 5 Docks (bottom bar of apps where you can add up to 7 shortcuts in 1 dock)
* Create folders with Names.
* Add widgets and re-size them.
* Hide applications.
* Transparent Notification Bar for Android 4.3 and above.
* Customize almost everything like Desktop, App Drawer, Dock, Folders, and Gestures etc.
One thing I like most is Gesture Controls.
You can add action to your gestures like Swipe Up, Swipe Down, and Double Tap and so on. Folders can also be assigned gestures as Swipe to open any application.
You can add Scroll effects to Home screen as well as App drawer.
You can back up your home screens so that if you make any changes, your can restore back to previous. There is also an option for "Lock Home Screen" enabling which prevents changes to the home screen by accident.
You can customize Dock, add background, colour, and shape your Dock to look more pleasant.
This application is compatible with Android 4.0.4 and above ( It might work with Android Gingerbread, but I have not tried it ).
In the free version, you cannot see Unread Counts on SMS, Mail or Call. In paid version, you need to install TELSAUNREAD from Play Store to enable Unread Count.
There are many Icon Packs available on Play Store like DCikonZ, Shina icons and much more. Installing Icon Packs will change the look and feel of your Phone.
Summary
 I highly recommend Nova Launcher if you don't like default UI provided on your Phone. Simple use and controls make this app my favourite Launcher. I would give 4.5 starts out of 5 stars to this app because there is always a room for improvement.
I recommend Try the free version first before buying Paid one.
https://play.google.com/store/apps/details?id=com.teslacoilsw.launcher
https://play.google.com/store/apps/details?id=com.teslacoilsw.launcher.prime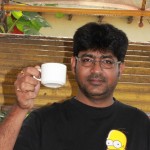 Share this: