Do you remember where you were last 25th at 9 pm?
Do you remember how much time it took to reach from one Location to another & by which route you travelled?
Do you know your location history is saved?
YES
When you turn on "Location Reporting" for your device, it lets Google periodically store and use that device's most recent location data in connection with your Google Account.
Your location History is saved on your Google Account if you are using Android / iPhone with Google apps like Google+, Google maps and you have enabled Location Reporting.
Location Reporting & Location History availability
Location Reporting and Location History may not be available if:
Location Reporting is not available in your region
You don't meet certain age restrictions
You're a Google Apps for Business, Education, or Government user, and your account administrator turns off your access to these features.
You've turned off"Location Services" or "Background App Refresh"
This is very interesting feature. Let's check how it works.
On your Android device go to Google settings, under Location tab (on some devices go to Phone settings > Personal > Location) you can enable Location Reporting.
There are 3 modes
1. High Accuracy
2. Power Saving
3. GPS only (Device only)
It is recommended to select "Power Saving" mode as other modes can drain battery faster by continuously using GPS, WiFi for location reporting.
Under Location Tab you can find apps and services which are using your Location whereabouts. These apps may include Weather apps like AccuWeather, fitness apps like Google Fit, & travelling apps like Uber.
Below Location services you will find Google Location Reporting, under which you can switch On & Off Location reporting and Location history.
REMEMBER: If you turn off Location History, it's turned off for all devices associated with that Google Account.
Now to check your Location History click here and sign in to your Google account which you use on your Android Device.
You will find options to see Location History by
Date : you can select a particular date in past to check where were you.
Days : you can select summary of your location history by selecting days from 1 to 30
You can also check where you were at a particular Time by selecting "Show Timestamps". Each Red DOT on map is marked as Timestamps and Red Lines show your route. You can delete History for a particular Day as well as you can delete all your History.
It is always advisable to keep Location History ON (Battery Saving Mode), which will help you to use third party apps which require Location of your device, especially Android Device Manager, which can help you locating your phone & protecting your data in case you lost your phone.
To learn more about location history visit following links.
For Android
For iOS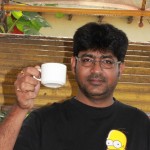 Share this: