WiFi Hotspot is very useful feature on Android, specially for those who travel a lot and can't find internet access on Laptop. WiFi Hotspot enables you to share your Mobile Data with Laptop and other compatible devices. Mobile Data (internet) can be shared via 3 different methods USB Tethering, WiFi Tethering and Bluetooth Tethering. USB Tethering is sharing your Mobile data with Laptop via USB Cable. Bluetooth Tethering is to share your Mobile Data with Laptop via Bluetooth.
These are the steps to setup WiFi Hotspot on your Android Smart Phone and share Mobile Data via WiFi.
Open Settings and select "Wireless Networks" which is below "Mobile Networks"
Select "Tethering & portable hotspot"
Select "Portable WiFi Hotspot"
Switch on hotspot and click "Set up WiFi hotspot"
Here you can change "Network SSID" and "Password". Setup password and click "save"
Now on your laptop Turn-On WiFi and connect to the "Netwotk SSID" name you gave on your mobile, enter password and you are connected. You will find which and how many devices are connected to your WiFi Hotspot. MAC address of connected devices are shown here.
This feature is useful when you are travelling, but make sure you have Unlimited Data Plan or sufficient data is available on your plan. You also need to make sure that you are not in "Roaming Network" as roaming data charges are higher than normal plan.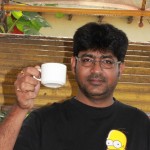 Share this: