Location sharing can be very useful to know whereabouts of your family and friends. Before it was shut down, "Google Latitude" was used by many users to share their location on Google Map. Retiring Latitude was part of Google's efforts to push Google+ and the location sharing features included in Google+ for Android. While only Android users were initially had access to sharing location on Google+, but now it is added to Google+ for iOS also.  Location Sharing can be done on Android and iOS devices through third party apps also which I will list at the end of article. Here I will show you how to use it on Google+ app.
Prerequisites for enabling Location Sharing on Google+
Google+ app
You and your friend / family members MUST be connected to each other on Google+
Enable Location sharing on your phone
Steps to enable Location Sharing
Go to Google+ app.
Click on settings by opening drop down menu from top right corner.
Select Google account you wish to share location.
Select "Location sharing".
Turn ON location sharing And select "Choose people to share with". You can select either "Pinpoint Location" or "City Location".
You can select your circles or individual person with whom you want to share your location.
Let the person accept the request you sent. After request is accepted you will see following screen.
Repeat steps on your friend's phone to enable it on his/her phone.
Now you both are sharing your location with each other. People who gained access will now be able to view your precise location or the general city location.
How to view location of people
Go to Google+ app.
Open profile of the person who shared location with you.
You will find "Currently in XYZ" (XYZ = location details) below Name and profile photo.
Click on location details and it will show you location of the person on Google map.
Be very careful while granting your location access. You can disable it anytime by going to Google+ settings and turn off location sharing / remove person or circle from your list if you no more want to share your location.  You can turn On and OFF location sharing on Android app, iOS app and on Computer.
These are some third party apps for Sharing Location on Android and iOS.
If you find this useful, please share it and write your comments below.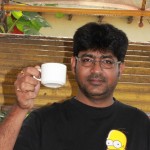 Share this: